Grundtvig International Secondary School
Classes of 2004 - 2021
In Memory
Chidi Akuma - Class Of 2007 VIEW PROFILE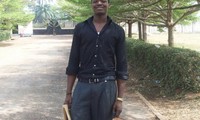 We all knew Chidi Akuma,
To some he was known as simply Chidi,
Popularly to his fellow schoolmates as Okwor,
Mostly to the younger ones as "The Dining Prefect,"
Even as Snr. Chidi to others,
To his various set boys as "Akpunwa!"
Brother Chidi by a selected few,
"Babyface," as I used to call him,
"Shortman," as he was referred to by JaneAnne,
And so on...
But he was universally known as a FRIEND by all.

Chidi, our beloved friend, brother, schoolmate, classmate, hostel mate, prefect.. is no longer with us. He has gone on to live with the Good Lord in the heavens above.
This news was a very big shocker to all who knew and loved Chidi. It is indeed an unbelievable tragic moment to all.

Chidi was involved in a car accident. He was in a vehicle that was hit by another vehicle with faulty brakes. He suffered multiple injuries, being seated on the side the impact took place.
He died on the spot.

~The Good, They Say, Always Die Young~

Chidi (Okwor) Akuma will always be held deeply in our hearts.

However, to all GISS members, I hope to remember and reminisce on our days with our beloved friend through our pictures, comments, discussion topics, etc...
Let us not only mourn the loss of our friend, but recapture all the memories we have shared with him.

***
Whether from the days of Gisting and Laughing with him in the hostels and classes,
To his various "theories" he would create in SS3 Alpha during Physics and Chem classes LOL :D,
To his Random Announcements in the dining hall during his tenure as the Dining Prefect, "No Noise O!" :),
To his Numerous Skills in the athletic areas (remember all those inter-house sports games he would always win!),
To his Igbo Laced with his unmistakable Oyinbo accent,
To his Unforgettable Laughter,
To all his Creative 'yabbings' lol :D,
And everything else you remember our Dear Friend for.
***

Chidi was scheduled to travel to the U.S.A. during August 2008. He had already obtained a 2-year visa for this trip.

I know we will continue to keep his spirit alive in our hearts and prayers.
Feel free to add anything onto this unending list. Invite all those you know have been touched by his kind spirit, add any pictures you have of him, post items (poems, videos, etc), etc..

Chidi, our beloved friend, we will always and forever remember and love you. Your spirit remains deep within us. We know you're in a better place.

May Your Soul Rest In Perfect Peace, Amen.

~ Chidiebere Okwor Akuma ~
Jan 10, 1990 -- Feb 1, 2008

___________________________________________________
Visit his Facebook Memorial Page Here
http://www.facebook.com/photos.php?id=683243810#/board.php?uid=8254678660
Click here to see Chidi's last Profile entry.